Wendyanne 14/09: Är ganska säker på att spelningen med King Kurt på Kolingsborg var på våren 1983...
stefan 13/09: Billy spelar bara på Marlboro Man och enligt mig så är den första versionen de g...
Janne Lennell 2/09: Lipstick.. och Have...är ju en fantastisk avslutning på första sidan...
Janne Lennell 2/09: The Vanjas (som jag såg förra året på Rosengrens) i all ära..men The Magnettes s...
Bubbert 26/08: Wow, Caroline Giertz från TV7:s flummiga spökprogram!...
Anders 24/08: Är det månne Motors som ligger på parkettgolvet?...
Janne 14/08: Fantastisk platta. Jag har läst att Hiatt skrev "Have a little faith in me" i st...
Lennart 7/08: Hej! Var också på nämnda konsert och mitt minne från den är/var att J Geils B...
Peter Alzen 21/07: Finns nån chans att få veta vilka de 38 för radion var? ...
Mikael Löwengren 8/07: Den släpptes faktiskt på kassett. Dock inte på LP. ...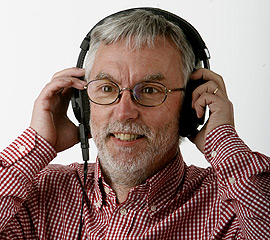 Jag är född 1952. Skrev min första recension i januari 1970. Har medverkat regelbundet i Nerikes Allehanda i över 45 år med recensioner, krönikor, artiklar och intervjuer. I nästan samtliga fall har det handlat om musik och ur mitt långa liv som skribent har jag hämtat många anekdoter som kommer förekomma här. Med popmusikens historia som grund berättar jag också om egna erfarenheter under den långa resan. Från 50-talet till idag. Plus utförliga recensioner av både konserter, skivor, dvd och böcker. Vill du/ni få er senaste skiva recenserad? Mejla mig, så får ni adress. Håkans Pop hade premiär 22 augusti 2007 och har sedan fyllts på med både nyskrivna artiklar och arkivmaterial från 1971 och framåt.
E-posta mig.