Dan Jansson 25/01: Hej! Läser med nöje din artikel om Basse Wickman. Själv håller jag på med en ...
Håkan Gustavsson 13/01: Kanonplatta - fattar inte hur jag har missat det här? Wilmer X referenserna är k...
Sigge Lake 5/01: Jag köpte en dubbelcdskiva på Röda korset i Kalmar. The songs of Lennon & McCaet...
Bubba 30/12: Jayhawks låt "Gonna be a darkness" är väl skriven ihop med Jakob Dylan, inte den...
Johan 30/12: Bra lista Håkan, här är mins 22 bästa: Primal Scream - Give Out But Don't Giv...
Timmy Petersson 17/12: Såhär 12 år senare... men Lalla Hansson har ju även gjort fler bra översättnin...
Mikael Löwengren 11/12: SETLISTA Konserthuset, Örebro Torsdagen den 18 oktober 1979 1. Det var en m...
Mikael Löwengren 11/12: SETLISTA Konserthuset, Örebro Tisdagen den 14 oktober 1980 1. Natt (ensam m...
Lennart Ahlgren 5/12: Gjorde de fler turnéer? För jag vill minnas att jag såg de i Lund men då var äve...
Lars Kärrbäck 1/12: Är det inte dags att göra en diskografi om Anne-Lie och Extra. Många intressanta...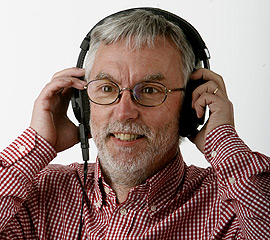 Jag är född 1952. Skrev min första recension i januari 1970. Har medverkat regelbundet i Nerikes Allehanda i över 45 år med recensioner, krönikor, artiklar och intervjuer. I nästan samtliga fall har det handlat om musik och ur mitt långa liv som skribent har jag hämtat många anekdoter som kommer förekomma här. Med popmusikens historia som grund berättar jag också om egna erfarenheter under den långa resan. Från 50-talet till idag. Plus utförliga recensioner av både konserter, skivor, dvd och böcker. Vill du/ni få er senaste skiva recenserad? Mejla mig, så får ni adress. Håkans Pop hade premiär 22 augusti 2007 och har sedan fyllts på med både nyskrivna artiklar och arkivmaterial från 1971 och framåt.
E-posta mig.